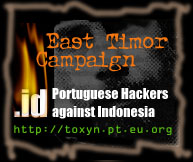 East Timor Campaign
Started on 10/2/1997
We hope to call attention to the necessity of self-determination and independence of the people of Timor, oppressed and violated for decades by the government of indonesia. We hope you give your full attention to this historical step towards freedom, we ask that you help us fight the tyranny of Indonesia occupating Timor.
Want to join our Campaign? Just send us an email.





The East Timor Campaign was inicitated on 02-10-97 with our first target being http://www.dfa-deplu.go.id/
The atack was online for about 3 hours from 7.00 pm to 10.00 pm (Portuguese Time) at the web site of the Department of Foreign Affairs, Republic of Indonesia. We didn't delete or destroy anything there, we just hack they're pages. Stay tuned for more developments.




G0 T0 Home@Toxyn Email
© Toxyn Technologies, Inc. Uz!
---
- back to 2600 contents back to 2600 -