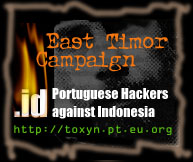 East Timor Campaign
Started on 10/2/1997
We hope to call attention to the necessity of self-determination and independence of the people of Timor, oppressed and violated for decades by the government of indonesia. We hope you give your full attention to this historical step towards freedom, we ask that you help us fight the tyranny of Indonesia occupating Timor.
http://www.dfa-deplu.go.id Normal Page



See the Hacked Page

G0 T0 Home@Toxyn Email
© Toxyn Technologies, Inc. Uz!
---
- back to contents back to 2600 -