2




Benvindo ao Ministério dos Negócios Estrangeiros da
República Fascista da Indonésia.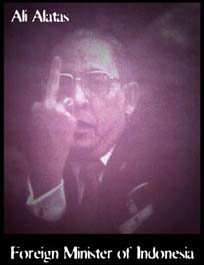 Dresden, Germany - April 1995
Photo by: Claus Dieter Rohl
This is not a fake picture. This is a photo of Mr.Alata's reaction to the protesters for the freedom of the East Timor resistance leader, Xanana Gusmao, in Germany.
Is this the man who wants to be the next general-secretary of the UN ?
We don't think so.
All we can say to Mr. Alatas and Mr. Suharto is:
'East Timor is not Indonesia.'
'Free Xanana Gusmao'.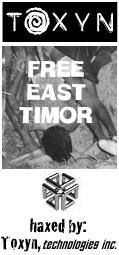 Who do you believe? Ali Alatas or the two winners of the noble peace prize, Ramos Horta and Bishop Belo? Make your choice.

In the 12th November 1996, five years have gone since the Santa Cruz massacre, where 250 Timorese were killed by the indonesian army. We want to remember on this date the Timorese cause, and what better means of free speach than the Internet to achieve this purpose?
No dia 12 de Novembro passaram cinco anos sobre o Massacre de Santa Cruz, em que morreram 250 jovens timorenses às mãos do exército ocupante indonésio. Na Internet, espaço de liberdade, queremos marcar a data relembrando a causa do povo timorense.


DISCLAIMER: This action has nothing to do with TimorNEt, Timor HomePage, East Timor Resistence or any other domain, Political Group in Portugal or any other country. This page was modified by the Toxyn Group.
East Timor Torture Photos




Hacked on 11 February 1996 by TOXYN

G0 T0 Home@Toxyn Email
---
- back to contents back to 2600 -